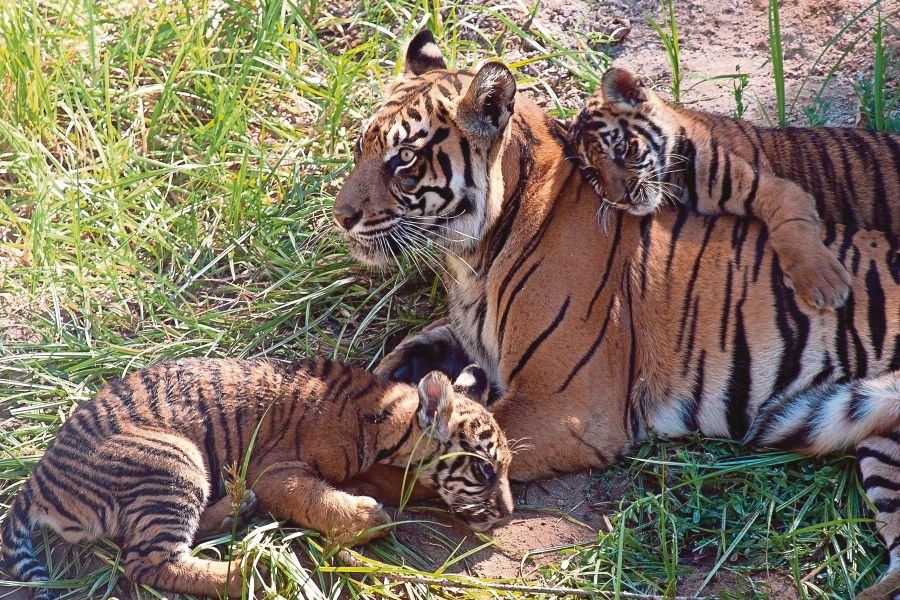 Sunday, 15 Mar 2020 –
JAKARTA: Habitat loss and conflicts with humans continue to pose a threat to the Sumatran tiger, especially in South Sumatra, where four remaining natural habitats are shrinking because of deforestation, according to the Zoological Society of London's (ZSL) Indonesia programme.
ZSL's tiger conservation project manager Yoan Dinata said South Sumatra had suffered deforestation since the 1970s as the forests were mostly located in lowlands with easy access for people to use them for agriculture and human settlements.
Primary forests that are natural habitats for tigers in South Sumatra, according to ZSL, now remain in four areas: the Sembilang National Park, some parts of Harapan Forest, Bukit Jambul Patah Nanti Forest and Bukit Dingin Mountain – the latter two are part of the larger Rejang area that extends into neighboring Bengkulu province. The four natural habitats are among a total of 23 areas suitable for Sumatran tigers across Sumatra Island.
"These four forests must be saved, " Yoan said.
Deforestation had also intensified conflicts between humans and tigers and increased the risk of extinction of the Sumatran tiger, as its population dwindles, Yoan said.
Five people died in at least seven Sumatran tiger attacks in the southern part of South Sumatra in less than two months in late 2019.
"These conflicts are also a reminder that Sumatran tigers still exist and their forests must be protected, " Yoan said.
The Sumatran tiger is categorised as critically endangered on the International Union for Conservation of Nature's (IUCN) red list since 2008. Accelerated deforestation in Sumatra, poaching and rampant illegal trade have significantly decreased the number of Sumatran tigers across the island.
Conservationist and Sintas Indonesia Foundation director Hariyo Wibisono said Sumatran tigers needed large areas to roam, so each habitat should be at least 250 square kilometres.
"(Tigers') conflicts with humans cannot be predicted, and as long as there are tigers [near human settlements], there is potential for conflicts, " Hariyo said.
However, because residents may not be aware of how to handle such conflicts, Hariyo urged authorities, especially the local natural resources conservation agencies (BKSDA) to be more alert. The agencies must inform people that they should report any encounter with the animals and not take matters into their own hands.
According to Hariyo, encounters between tigers and humans could become more frequent, particularly when young tigers were no longer dependent on food procured by their mothers and were searching for their own places to roam in their shrinking habitats.
On Jan. 21, a young Sumatran tiger believed to have mauled to death a Semendo Darat resident in Muara Enim was caught in a box trap. It is now in the care of Tambling Wildlife Nature Conservation (TWNC) in neighboring Lampung province.
"We will most likely return it into the wild. It is still young, only about two to three years old, and has only recently been able to search for its own food. It was looking for its own territory but was cornered, leading to the attack, " South Sumatra BKSDA head Genman Hasibuan said recently.
The body of 30-year-old Sulis, the resident, was found in a riverbed near her village weeks before the capture of the tiger.
Data from the Environment and Forestry Ministry's Natural Resource and Ecosystem Conservation (KSDAE) Directorate General, however, show that wildlife-human conflicts in South Sumatra are relatively low compared to other regions. South Sumatra saw 15 incidents of such conflicts between 2001 and 2019, far less than 81 incidents in North Sumatra and 235 in Riau.
Genman said that, according to South Sumatra BKSDA records, 17 Sumatran tigers were left in South Sumatra. Most live in the Rejang region in the southern part of the province, which lies in Pagar Alam municipality, Lahat regency, Muara Enim regency and South Ogan Komering Ulu regency.
Yoan suggested that areas for tiger movement across the region be maintained or even created. These areas were critical for tigers to find food, shelter and opportunities to breed. He also suggested that the government breed Sumatran tigers of different habitats.
"We estimate that about 600 Sumatran tigers exist (across Sumatra). If there are no conscious efforts, their population will keep dwindling (to the point of extinction), " he said.
South Sumatra Forestry Agency head Pandji Tjahjanto said forests covered around 40 percent of the province's total 3.46 million hectares of land. He said these forests were at risk of further deforestation due to land conversion.
"This is our collective duty to return the function of the tiger's natural habitat, " said Pandji, adding that his office lacked the capacity to patrol wide forest areas in South Sumatra.
"(However) we are committed [to addressing this issue]. In February, we conducted campaigns on [human-animal] conflict-free villages, and now the (newly established) task force on wildlife conflict is ready to work, " he said. – The Jakarta Post/ANN
sumber: https://www.thestar.com.my/news/regional/2020/03/15/sumatran-tigers—a-case-of-being-pushed-out-of-the-jungle-and-into-extinction